Find rest and relaxation through the ease and enjoyment of fishing. The Sterling Park District has several location that allow for a variety angling options. All individuals who pursue fishing at any of our locations are required to acquire the proper license and follow the terms set by the State of Illinois Department of Natural Resources.
Download the
Illinois DNR Fishing Guide
Lawrence Park

Avenue G Island
Amenities:
Boat Launching, Fishing, Grills, Horseshoe Courts, Picnic Areas, Playground Equipment, Open Play Areas & Shelters
Oppold Marina

532 Stouffer Road
Amenities:
50ft launch ramp, 100ft main dock, Harbor House, 2 Picnic Shelters, Picnic Units, Playground Equipment
Martin's Landing &
Sinnissippi Dam

10th Avenue & 2nd St.
Amenities:
Benches, Gazebo Shelter, Fishing & Trail - connection to Hennepin Canal Parkway Trail
Sinnissippi Park

Sinnissippi Road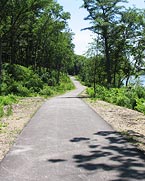 Amenities:
Ball Diamond, Cross-Country Skiing, Fishing, Frisbee Golf (PDGA), Grills, Historical National Site, Picnic Areas, Playground Equipment, Open Play Areas, Restrooms, Shelters, Sledding & Trail Access